How to Integrate a HotelDruid web page with Joomla!
The Joomla! content management system (CMS) is very common and easy to use, in this tutorial we will explain a simple method to integrate it with the pages generated by HotelDruid. The version of Joomla! used in this tutorial is 1.7.3. Please note that on the DigitalDruid.Net hosting you can not use php scripts (except for pages generated by HotelDruid), so if you want to create a site with Joomla! you'll have to host it on an alternative hosting service, leaving the pages generated by HotelDruid on the DigitalDruid.Net hosting.
When you create a web page on HotelDruid, if you use a default theme, leave blank the theme fields "Home URL", "Logo URL" and "Back to the Home", so that the top bar is not shown. After creating the HotelDruid web page you will be presented with a link to the page you have just created, you can copy its address with the right button of the mouse:


After copying the link address, you can move on to Joomla!, logging in from the administrator backend. To add a menu item in Joomla! go to "Menus" in the top bar, then on the menu in which you want to add the item (for example "Main Menu"), and finally click on "Add New Menu Item". You should be shown a page like this: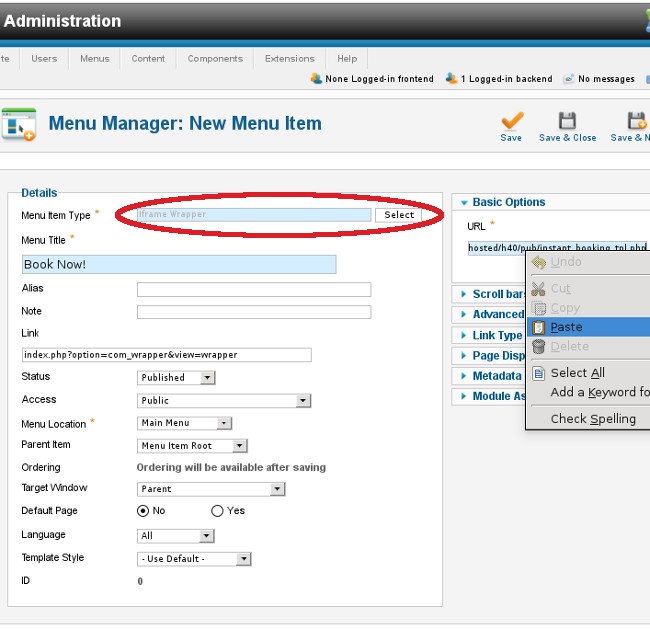 On this page, after entering the menu title, press "Select" to choose the menu item type, and in the box that opens click on "Iframe wrapper." At this point, on the right side of the page, an "URL" field will appear in the "Basic Options" section, where you should paste the address previously copied from HotelDruid.
Once you have saved the settings (press the "Save" button at the top), the new item will appear in the menus of your website, clicking on it this is the result you will get: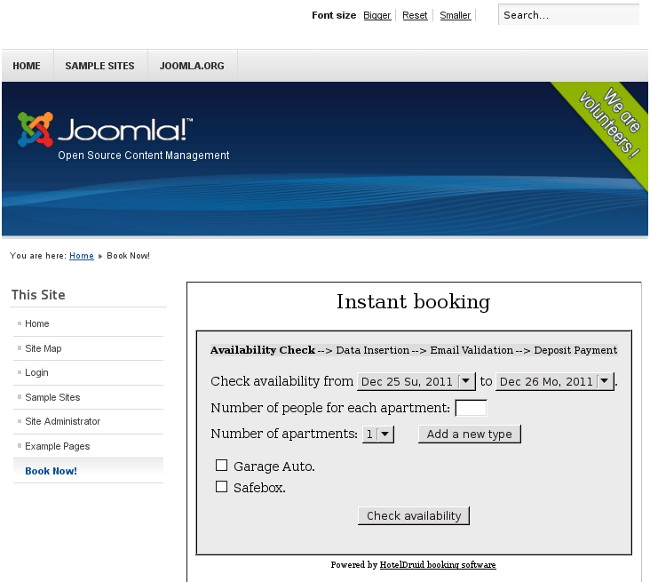 This example shows the page for instant booking, but with the same method you can integrate any other web page created by HotelDruid.